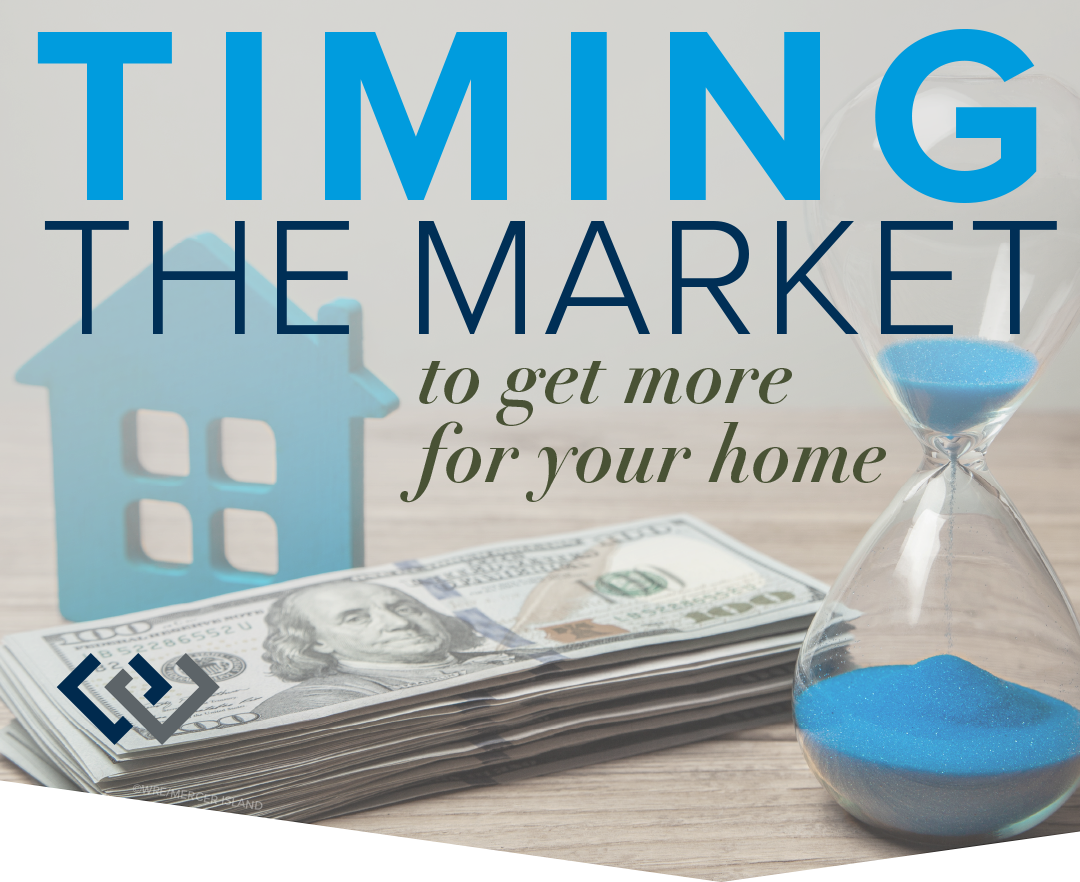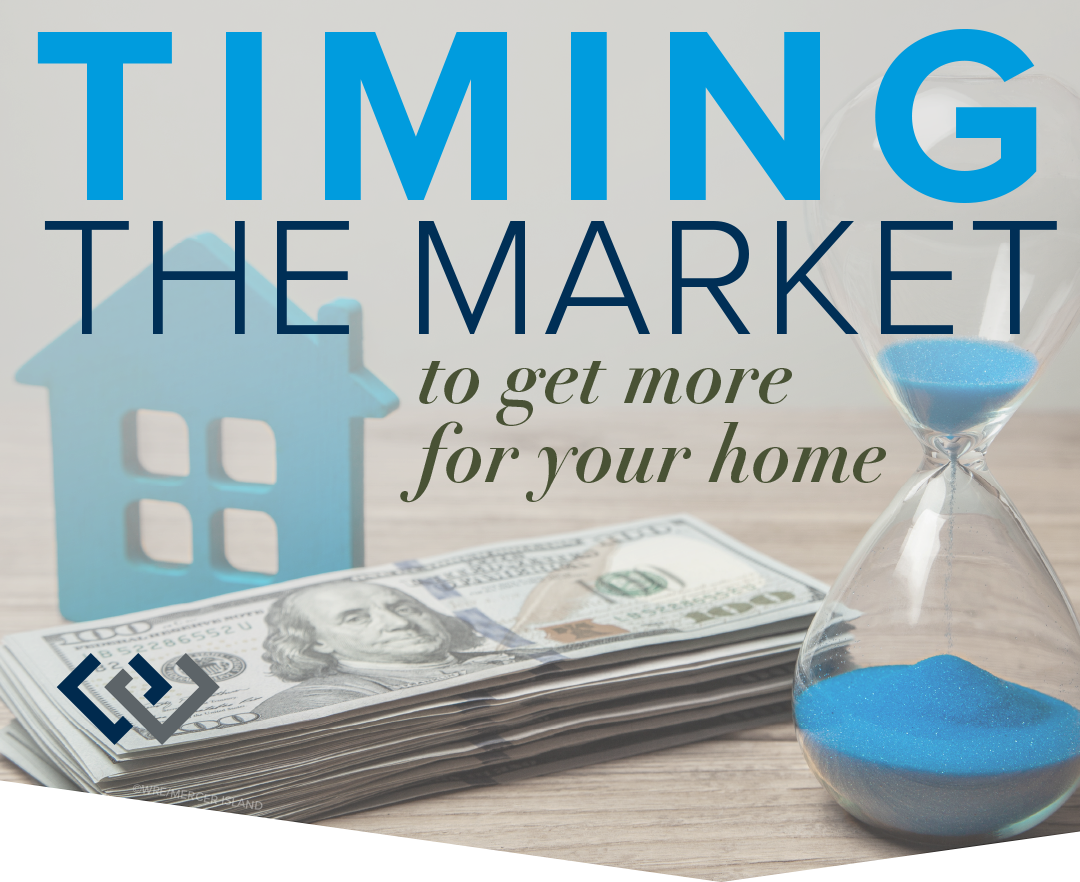 Ever notice how one home on your street sells well above asking price with a line of buyers out the door and an identical home comes on a month later and sits on the market for two weeks before finally selling at a reduced price?  Every. Day. Counts.
It's not always about the house. It's also about timing the market well. In a world where potential buyers know how long you've been on the market down to the minute, being on the market a nanosecond longer than expected can be painful for any seller, financially and otherwise. Statistically, at mainstream price points, prices seem to peak around Day 7 and begin to slide downhill after Day 10.
How to time the market in a nutshell.
Avoid coming to market during major holiday weeks. Potential buyers take vacation too—and the fewer buyers out there looking in those precious early days, the lower the likelihood you'll sell in the first 10 days. Look to come on the market a few days after typical vacations are over to allow buyers to re-engage in the search process. Avoid coming to market when a similar house in your neighborhood has just listed and not yet sold.
The laws of supply and demand would dictate that when supply appears abundant, demand diminishes—and the days tick on by. Even if you are by far the better house and at a better price, you might still be hurt by the curiosity around why everyone is selling now.
Avoid coming to market during bad weather or local events. Like coming on market right smack in the middle of graduation week, listing when everyone's attention is on something other than home shopping is likely to miss the mark big time. Even if you were all set to list on a particular date, it might be better to take a deep breath and wait until the storm passes.
Do come to market when you notice an absence of great listings for sale in your price range and neighborhood. Buyers will likely feel that void too and be chomping at the bit for the next great home to come along. The chances of a perfect match between a solid buyer and a reasonable seller are best in this zone.
This is especially true if your home has challenges (outdated design, deferred maintenance, busy street, steep slope, etc.) that would make it difficult to compete with other homes out there. On the flip side of that coin, if your home is exceptional, you want to be on the market during peak season when buyers can size up your home to the competition and appreciate how much better your home is. Buyers will pay handsomely for turnkey quality when they can clearly see the difference. Come on when there is nothing else to compare to and your beautiful amenities might not see their full value potential.
The best days to come to market are Tuesday, Wednesday or Thursday. This allows for showings and open houses on evenings and throughout the weekend. If you are doing an offer review date, the best day to review offers is Monday or Tuesday. This gives buyers ample time to see your home, conduct their due diligence, complete a home inspection and sewer scope, and get their financial documentation together—all before they prepare an offer.
Final thoughts.
Look at the holiday calendar and local school district calendars to guide you toward best weeks to come to market. Don't forget to check in big political and sporting event dates too.
Decide whether your home will shine against the competition, or be the wallflower, and adjust your timing based on real-time competition.
Of course, an outstanding listing broker can help you choose the most favorable date to bring your home to market. They analyze the market consistently and know exactly what indicators to look for. Still have questions? Contact one of our knowledgeable brokers for assistance with determining the best market timing for your home.
---

Find a Home | Sell Your Home | Property Research
Neighborhoods | Market Reports | Our Team
We earn the trust and loyalty of our brokers and clients by doing real estate exceptionally well. The leader in our market, we deliver client-focused service in an authentic, collaborative and transparent manner and with the unmatched knowledge and expertise that comes from decades of experience.
2737 77th Ave SE, Mercer Island, WA 98040 | (206) 232-0446
© Copyright 2020, Windermere Real Estate / Mercer Island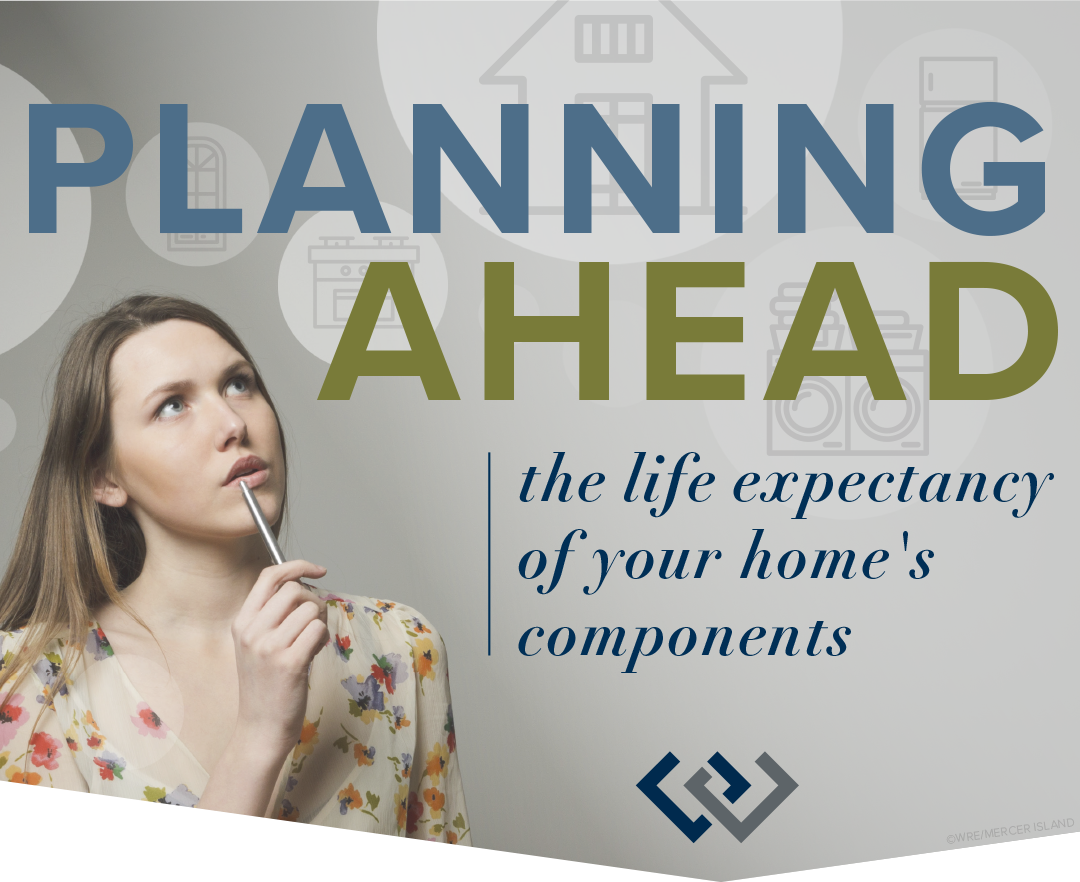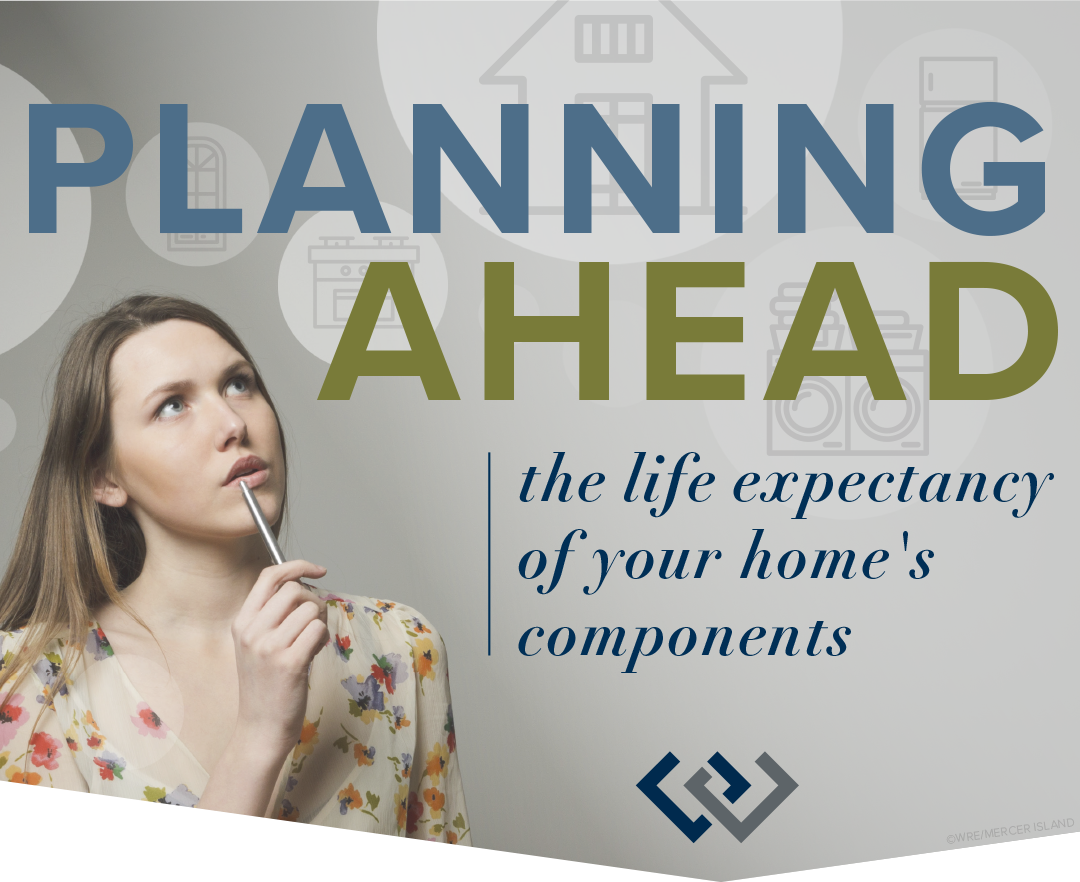 Nothing in life lasts forever – and the same can be said for your home. From the roof to the furnace, every component of your home has a lifespan, so it's a good idea to know approximately how many years of service you can expect from them. This information can help when buying or selling your home, budgeting for improvements, and deciding between repairing or replacing when problems arise.
According to a National Association of Home Builders (NAHB) study, the average life expectancy of some home components has decreased over the past few decades.  (This might explain why you're on your third washing machine while Grandma still has the same indestructible model you remember from childhood.) But the good news is the lifespan of many other items has actually increased in recent years.
Here's a look at the average life spans of some common home components (courtesy of NAHB).
APPLIANCES. Of all home components, appliances have the widest variation in life spans. These are averages for all brands and models and may represent the point which replacing is more cost-effective than repairing. Among major appliances, gas ranges have the longest life expectancy, at about 15 years. Electric ranges, standard-size refrigerators, and clothes dryers last about 13 years, while garbage disposals grind away for about 10 years. Dishwashers, microwave ovens, and mini-refrigerators can all be expected to last about nine years. For furnaces, expect a lifespan of about 15 years for electric, 18 for gas, and 20 for oil-burning models. Central air-conditioning systems generally beat the heat for 10 to 15 years.
KITCHEN & BATH. Countertops of wood, tile, and natural stone will last a lifetime, while cultured marble will last about 20 years. The lifespan of laminate countertops depends greatly on the use and can be 20 years or longer. Kitchen faucets generally last about 15 years.  An enamel-coated steel sink will last five to 10 years; stainless will last at least 30 years; and slate, granite, soapstone, and copper should endure 100 years or longer. Toilets, on average, can serve at least 50 years (parts such as the wax ring, flush assembly, and seat will likely need replacing), and bathroom faucets tend to last about 20 years.
FLOORING. Natural flooring materials provide longevity as well as beauty: Wood, marble, slate, and granite should all last 100 years or longer, and tile, 74 to 100 years. Laminate products will survive 15 to 25 years, linoleum about 25 years, and vinyl should endure for about 50 years. Carpet will last eight to 10 years on average, depending on use and maintenance.
SIDING, ROOFING, WINDOWS & DECKS. Brick siding normally lasts 100 years or longer, aluminum siding about 80 years, and stucco about 25 years. The lifespan of wood siding varies dramatically – anywhere from 10 to 100 years – depending on the climate and level of maintenance. For roofs, slate or tile will last about 50 years, wood shingles can endure 25 to 30 years, the metal will last about 25 years, and asphalts got you covered for about 20 years. Unclad wood windows will last 30 years or longer, aluminum will last 15 to 20 years, and vinyl windows should keep their seals for 15 to 20 years. Cedar decks average 15-25 years if properly cleaned and treated, while high quality composite decks should easily last 30 years with minimal maintenance.
Of course, none of these averages matter if you have a roof that was improperly installed or a dishwasher that was a lemon right off the assembly line. In these cases, early replacement may be the best choice. Conversely, many household components will last longer than you need them to, as we often replace fully functional items for cosmetic reasons, out of a desire for more modern features, or as a part of a quest to be more energy efficient.
Are extended warranties warranted?



Extended warranties, also known as service contracts or service agreements, are sold for all types of household items, from appliances to electronics. They cover service calls and repairs for a specified time beyond the manufacturer's standard warranty. Essentially, warranty providers (manufacturers, retailers, and outside companies) are betting that a product will be problem-free in the first years of operation, while the consumer who purchases a warranty is betting against reliability.
Warranty providers make a lot of money on extended warranties, and Consumers Union, which publishes Consumer Reports, advises against purchasing them.  You will have to consider whether the cost is worth it to you; for some, it brings a much-needed peace of mind when making such a large purchase. Also, consider if it the cost outweighs the value of the item; in some cases, it may be less expensive to just replace a broken appliance than pay for insurance or a warranty.
---

Find a Home | Sell Your Home | Property Research
Neighborhoods | Market Reports | Our Team
We earn the trust and loyalty of our brokers and clients by doing real estate exceptionally well. The leader in our market, we deliver client-focused service in an authentic, collaborative and transparent manner and with the unmatched knowledge and expertise that comes from decades of experience.
2737 77th Ave SE, Mercer Island, WA 98040 | (206) 232-0446 mercerisland@windermere.com
© Copyright 2019. Information and statistics derived from Northwest Multiple Listing Service.