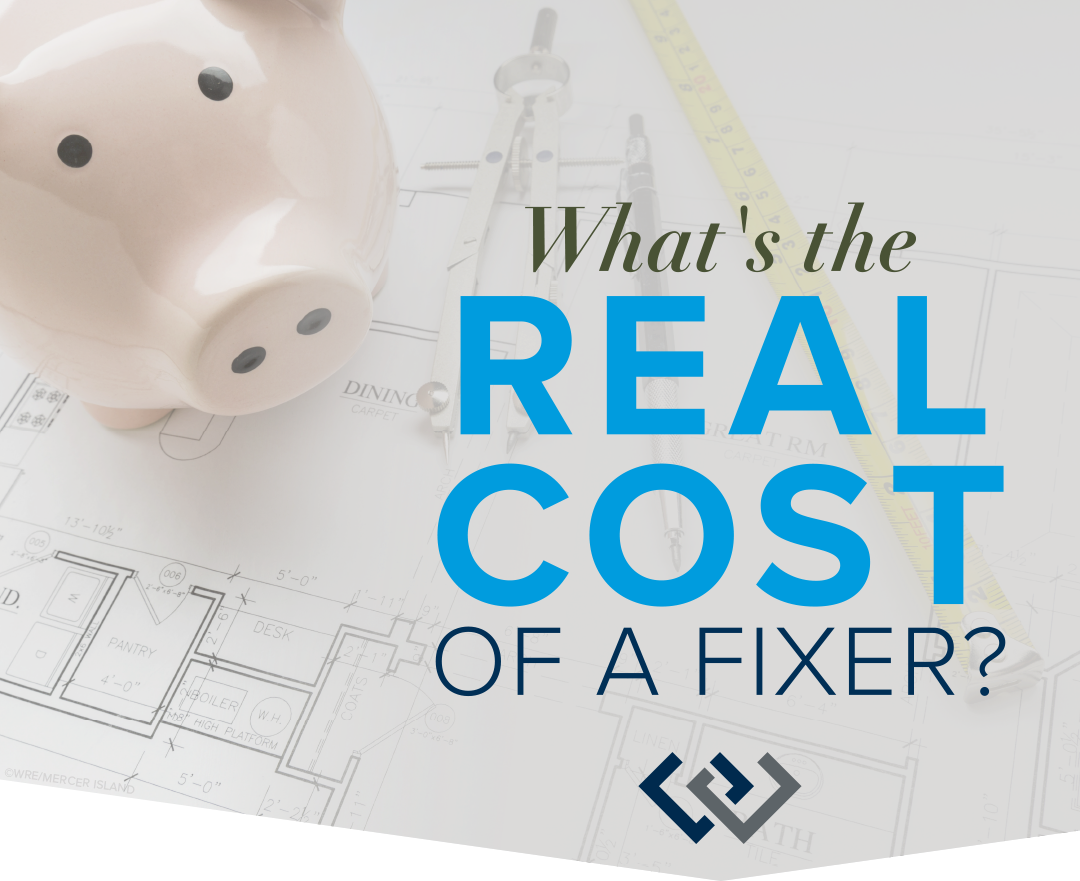 It can be very compelling to find a home in a neighborhood you like that is bargain priced. But how do you know if it will be a good investment? The only certainty in a fixer project is that there will be a substantial amount of uncertainty and risk. There can be significant rewards too, which is why the call of a fixer is so loud for opportunistic buyers.
Here are a few guidelines to determine how much how much to offer and whether a fixer is the right house for you.
Step 1: Determine the initial scope of work
Make a list of the most obvious items to be addressed. Decide which items are within your skill set to accomplish yourself and which ones need to be contracted out. Spend some time calling contractors and researching each item to get a ballpark idea of the cost to complete—either the raw materials expense to DIY or the contractor's price to do it for you. Calculate in an additional 20% for unexpected issues and cost overruns. Add these to a spreadsheet along with the time each project should take. Keep in mind this is an initial evaluation intended to be done before you invest too much time and money into negotiation or inspections.
It's well worth spending a few minutes talking to the city or county building department to verify which work requires a permit and what the cost and process is before proceeding. Don't forget to calculate in the cost of obtaining permits for electrical, plumbing, major remodel, or structural changes into your total budget. Getting permits can be time-consuming but doing work without a permit will ultimately create bigger problems when you go to sell because lenders and buyers will want verification the work was permitted and completed properly.
Step 2: Do a reality check
Do you have the readily available cash or an approved line of credit to fund this project plus any cost overruns? Do you have the skills and patience to manage or complete the renovation work? Are you able to fit the work itself or the oversight of contractors into your current life schedule without compromising your life values? Will the time and money you invest be worth it in the end product? Are you willing to live in a construction zone while work is being completed?
Don't skip this step! The answer to these questions will be different for everyone. Some people take on a project because it pencils out without fully evaluating what the impact on their lifestyle will be. A savvy fixer buyer will go in with full awareness of what they are taking on and the project will be much smoother as a result.
Step 3: Determine your offer price and strategy (and max purchase price)  
This is where your broker can be an invaluable resource. They can assess a home's as-is market value and also its potential finished value. Calculating in the costs you identified in step one—including the 20% for unexpected issues and cost overruns—will give you an idea of your max purchase price. Don't forget to consider expenses like the cost of living elsewhere during renovations, the inconvenience of living through a remodel, and the value of your time invested.
From there, your broker can evaluate market activity and present options for offer strategies, including an initial offer price. Your offer should always include an inspection and sewer scope or septic contingency unless you've completed them before making an offer. Here are additional contingencies you may want to include to protect you in your purchase.
Step 4: Don't skimp on the inspection
Assuming you've decided that you and your pocketbook are up for the challenge, the next step is to hire the best inspector you can find to make a thorough assessment of the home. If there is obvious deferred maintenance you can see, there are likely to also be many other issues you can't see. A good inspector will identify those and provide insight into the overall structural condition of the home. Well-built homes with "good bones" make much better rehab projects than homes of mediocre quality.
Don't forget to scope the sewer line or evaluate the septic system. Both are potentially big-ticket items that don't add any visible value to your finished product. If you are in an area that may have had oil heating at one time, also confirm there are no underground oil tanks remaining.
If major structural issues are identified or there are indications of problems that cannot be fully investigated, think seriously about proceeding without getting permission to have a structural engineer or general contractor investigate further.
Final thoughts
By thoroughly completing your due diligence, you can mitigate much of the risk associated with purchasing a fixer. Having remodeling skills or connections to outstanding contractors is critical. Lastly, if this is your first-time renovating a home, purchasing a home that is simply tired and dated rather than having significant deferred maintenance or structural issues will help you keep your project in the black.
Still have questions? Contact one of our knowledgeable brokers for assistance with how to purchase or determine the value of a potential fixer.
---

Find a Home | Sell Your Home | Property Research
Neighborhoods | Market Reports | Our Team
We earn the trust and loyalty of our brokers and clients by doing real estate exceptionally well. The leader in our market, we deliver client-focused service in an authentic, collaborative and transparent manner and with the unmatched knowledge and expertise that comes from decades of experience.
2737 77th Ave SE, Mercer Island, WA 98040 | (206) 232-0446
© Copyright 2020, Windermere Real Estate / Mercer Island
Before you plop down $500-$800 for a home inspection, it really helps to identify obvious issues up front and determine if A) you are willing to buy the home despite them or B) the seller appears reasonable about addressing them. If neither of the above are yes, but you might want to keep looking rather than investing hard-earned dollars in an inspection that, at minimum, will bring up items that you can clearly see, and more likely, will unveil even more issues.
Taking a bit of time to do a quick personal inspection of the property you are ogling can help you make smarter decisions about when or whether to write that offer. This list includes bigger ticket items we often see come up in an inspection.
Indicators of bigger ticket items to be on the lookout for:
Evidence of moisture or water damage in and around showers or tubs and under sinks
Missing or cracked grout/caulk around the tub or shower (a major cause of rot in walls and the sub-floor)
Cracked, peeling or weathered exterior paint and caulking
Evidence of moisture or water damage around the exterior, especially at windows and doors
Heavy moss, sagging or a roof that looks near the end of its life span
Signs of improper drainage around the perimeter of home, driveway and yard
Unexplained mildew smell in the basement
Uneven floors or the appearance of leaning or sagging
Obvious remodeling completed with no permits on file (this is easy to lookup online), especially when involving opening or movement of walls, plumbing or electrical
Rotted or damaged deck/porch boards, stairs, railings, or supporting joists/structure
An aging heating/AC system (more than 15-18 years old and/or no recent maintenance stickers)
An aging hot water tank (more than 9-10 years old)
Aging appliances (more than 10-15 years old)
An electrical panel that appears modified by someone other than an electrician (obvious changes that don't look proper, open breaker sections or loose wires)
Railings (inside or out) that are missing or not up to code (ie. your smaller toddler could fit through them)
Cracked or damaged foundations or retaining walls
Evidence of unstable soil/earth movement (slides, cracks or gaps, leaning supports/structure or trees)
Evidence of rodents (odor, droppings, chew marks or damage around exterior/vents)
Properties with a high likelihood for costly sewer line issues include those with very large trees near the most likely sewer line path and those more than forty years with no prior evidence of sewer line re-lining/replacement
Signs of home maintenance neglect such as broken or missing hardware or components, improperly functioning doors/locks
Not all these issues will turn out to be major expenditures, but they often can be. Better to note them early and decide if it makes sense to proceed with a more thorough professional inspection or walk away and save those dollars for a more likely candidate.
Here are a few great online resources to add to your knowledge base:
https://www.homeinspector.org/HomeInspectionNews/the-quick-home-inspection-checklist-what-to-look-for-when-buying-a-home.5-1-2017.1724/Details/Story
https://www.hgtv.com/design/decorating/clean-and-organize/common-problems-found-during-home-inspections
https://www.familyhandyman.com/smart-homeowner/tips-for-getting-the-most-out-of-a-home-inspection/
https://www.zillow.com/sellers-guide/bad-home-inspection-for-sellers/
https://wini.com/articles/home-inspection-checklist-a-complete-guide-to-the-home-inspection-process/
https://www.familyhandyman.com/smart-homeowner/home-facts-this-is-how-long-these-parts-of-your-home-should-last/
Of course, nothing tops having an experienced broker to guide you through the process. They've seen hundreds upon hundreds of homes and can help you identify the solid finds from the duds with gorgeous looking veneer.
Choosing the right broker can save you thousands on your home purchase. Whether through local market knowledge and pricing analysis allowing you to make a smarter offer, recommendations and resources to thoroughly conduct your due diligence and avoid costly mistakes, or savvy contract negotiation to help you get the terms you need, having a Windermere broker on your side is one advantage you can't afford to sacrifice.
---

Find a Home | Sell Your Home | Property Research
Neighborhoods | Market Reports | Our Team
We earn the trust and loyalty of our brokers and clients by doing real estate exceptionally well. The leader in our market, we deliver client-focused service in an authentic, collaborative and transparent manner and with the unmatched knowledge and expertise that comes from decades of experience.
2737 77th Ave SE, Mercer Island, WA 98040 | (206) 232-0446 mercerisland@windermere.com
© Copyright 2019. Information and statistics derived from Northwest Multiple Listing Service.